Water Restrictions & Conservation
5/1/2012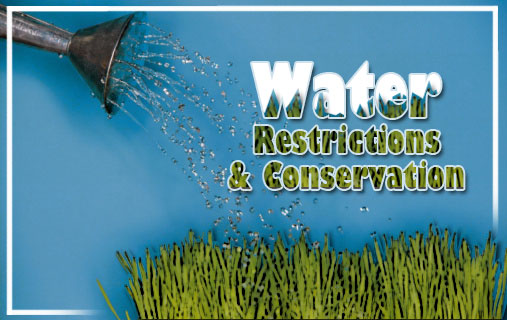 Why Conserve?
The average American family of four uses 400 gallons of water per day, and about 30 percent of that is devoted to outdoor uses. More than half of that outdoor water is used for watering lawns and gardens. Nationwide, landscape irrigation is estimated to account for almost one-third of all residential water use, totaling more than 7 billion gallons per day. In South Lake Tahoe, water use almost triples in the summertime due in large part to landscape irrigation. Other residential outdoor uses include washing automobiles and cleaning sidewalks and driveways.
Some experts estimate that more than 50 percent of commercial and residential irrigation water use goes to waste due to evaporation, runoff or over-watering. Due to the inordinate cost of producing high-quality drinking water for landscape irrigation use, it is crucial to irrigate in an efficient manner.
WATER THE RIGHT DAY... And the right way.
The Right Day is:

Even-numbered street address:

Monday / Wednesday / Friday

Odd-number street address:

Sunday / Tuesday / Thursday



No landscape irrigation on Saturday.

The Right Way is:

Properly amend soil before planting any vegetation.

Water the appropriate amount for the vegetation type and soil condition.

Tahoe soils have limited water holding capacity. Never apply more than one inch of water in any one application.
Exemptions:
New lawns and vegetation planted to comply to the TRPA's Best Management Practices (BMPs) or, for any other reason, as follows:
Newly planted sod will be exempt for forty-five (45) days from date of installation.

Seeded lawns, whether by hydro seeding or other means, will be exempt for sixty (60) days from date of planting.

Bedding plants, including annuals and perennials, will be exempt for fifteen (15) days from date of planting.

The property owner,or their designee, must notify the Tahoe Keys Water Department, by phone (530) 542-6451 or in writing, to obtain an exemption for the establishment of new vegetation as outlined above.


Irrigation exclusively utilizing drip or other low-flow systems are exempt from designated irrigation days.




Watering with a hand-held automatic shut-off nozzle is exempt from designated water days.
Water the Right Amount:
While it is important to water on the correct day for your address, that is only one-half of the equation. It is equally important to water the appropriate amount for Tahoe basin soils.


Lake Tahoe basin soils are composed primarily of decomposed granite and have limited water holding capacity. Soil amendments such as additional organic matter (compost or planting mixtures) can improve this water holding capacity. Lake Tahoe soils require 1/2 to 1 inch of water per application.